Body
The LegalSource Standard sets out the LegalSource requirements for producing and sourcing legally harvested timber. The standard is aligned with key regulations applicable in the EU, the US and Australia.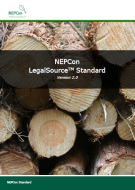 The LegalSourceTM Standard forms the backbone of the LegalSource Programme and Due Diligence System. It is used for evaluating and certifying due diligence in legal timber sourcing.  
The standard sets out requirements covering supply chain management, risk assessment, risk mitigation and quality management systems. 
Certification against the standard allows organisations to demonstrate that they are minimising risks of producing or sourcing illegal timber products.
The LegalSource Standard is also used for supplier evaluations and for benchmarking companies' own sourcing policies and due diligence systems, including identification of potential gaps compared to the EUTR or other legislations. 
 
The LegalSource standard is supported by other standards applicable in certain cases, and shall be applied where necessary:
Key features
Aligned with key timber market regulations: the LegalSource Standard is fully aligned with the EU Timber Regulation (EUTR), the US Lacey Act and the Australian Illegal Logging Prohibition.

Applicable worldwide: the Standard can be used by operators on regulated timber markets such as the EU, the US and Australia;  however, it is equally useful for suppliers globally who wish to meet buyers' needs for product information, timber origin documentation and legality assurance.

Key element in the EU-recognised LegalSource Due Diligence System: the LegalSource Standard forms the basis for our DDS which is recognised as being EUTR-compliant by the European Commission. 

Basis for credible communication: third-party benchmarking, evaluation or certification against the Standard permits companies to make claims about their commitment to legal timber sourcing. Certification provides access to the LegalSource claims and labels.
LegalSource Standard Consultation
Your comments are appreciated
We are a subscriber to the ISEAL Alliance, a global association for sustainability standards.
We have developed the LegalSource Standard in line with the ISEAL Code of Good Practice for Setting Social and Environmental Standards, where transparency and stakeholder involvement are high on the agenda.
Good Standard-Setting from ISEAL Alliance.
Public consultations on draft versions 
Prior to the official launch of the LegalSource Standard, it was subject to two rounds of public consultation. Stakeholders representing a variety of interest groups participated, with the vast majority being active only in the second round. 
The feedback resulted in major improvements in terms of the Standard's integrity and usability. 
Download consultation synopsis covering both rounds of consultation below.