Body
SBP certification demonstrates your commitment to source and deliver legal and responsible woody biomass.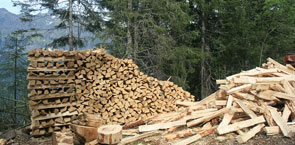 Sustainable Biomass Program (SBP) certification applies to organisations that produce, trade or use woody biomass for energy production.
A valid  FSC or PEFC Chain of Custody certificate is a precondition for SBP chain of custody certification. You may achieve this in advance or simultaneously with your SBP certificate.  
Forest operations do not need to be SBP certified. However, unless the operation holds FSC or PEFC certification, SBP certified buyers of woody feedstock are obliged to take additional steps to ensure that the material is SBP-compliant. SBP certified buyers might therefore prefer operations to be either FSC or PEFC certified.
To begin your certification process and receive a service quote, fill in our service request form or contact us. We will provide clarifications guiding you on the scope of certification that best fits your needs and company set-up. 
The process normally entails the following steps:
Scope of your certificate: We will help you to identify the scope that matches your business. Once you have accepted our offer, we will assign a Preferred by Nature contact person for your organisation. We will provide you with all the information you need to get started. 

Prepare for certification: 

Biomass producer without Supply Base Evaluation (SBE): All feedstock is either FSC, PEFC or SFI certified or segregated. You ensure compliance with the relevant SBP standards. You will prepare a Supply Base Report, collect energy and carbon data, and implement Chain of Custody requirements if applicable, among other requirements.  You submit your SBP procedure to Preferred by Nature prior to the on-site inspection. Stakeholder consultation will need to take place one month before the onsite audit.
 
Biomass producer with SBE in the scope: Material that does not come from SBP-approved Forest Management Scheme's claims such as FSC, PEFC or SFI, needs to be verified through SBP supply base evaluation. In addition to the requirements above there are  a number of additional obligations such as evaluation of the risks in your supply base and implementation of appropriate mitigation measures that you need to carry out. In this case, there will be two stakeholder consultations. The first one is conducted by the biomass producer and shall take place prior to the second. The second is held by the certification body and it shall be one month prior to the audit. 

Note: Biomass producers sourcing feedstock, without the SBP-approved Forest Management Scheme's claims such as FSC, PEFC or SFI, will also need to conduct a Supply Base Evaluation entailing a number of additional obligations.

On-site evaluation: When you are ready, we will conduct an on-site assessment to check your compliance with the SBP requirements. This is done through document reviews, field observation and interviews with staff and other stakeholders.

Note: SBP certification bodies will conduct stakeholder consultation in advance of the main SBP assessment of biomass producers.

Draft report: We elaborate a formal report which is reviewed by a senior Preferred by Nature expert and submitted to you for comments prior to its completion. For Supply Base Evaluation, we will involve an external reviewer in this stage. 

Certification: Based on a positive outcome, your SBP certificate is issued and you gain access to the SBP trademarks and claims. A public summary of the report will be made available on the SBP website. 
Your SBP certificate remains valid for five years, providing you pass annual audits. Once the validity period ends, you need to undergo re-assessment to renew your certificate.
Note: There is no bespoke SBP Chain of Custody control system. Instead, SBP relies on the Chain of Custody systems of FSC and PEFC. Biomass producers and traders must therefore hold a valid FSC or PEFC Chain of Custody (CoC) certificate in order to earn SBP certification. Energy producers also need FSC or PEFC CoC certification if they wish to sell SBP certified biomass products or use any SBP related claims about their use of certified products. 
You may obtain an FSC or PEFC CoC certificate in advance of the SBP certification, or you can engage in a dual certification process where your FSC or PEFC CoC certificate is issued simultaneously with the SBP certificate.
> Find more information on FSC CoC certification
The scope of your certificate and the recommended service level depends on where you are placed in the supply chain. For biomass producers, it also depends on the certification status of the material you are sourcing.  
We can help you to identify the type and scope of SBP services that suits you best. Below is an overview of the main options and how they apply to your line of business.
In addition to the services included in your SBP certification process, we can provide FSC or PEFC Chain of Custody certification before or in parallel with your SBP certification.
Note: Multi-site certification is not an option in the SBP system.
1. SBP Pre-Assessment 
Type of operation
Role of the pre-assessment

Traders & energy producers

A pre-assessment is normally unnecessary. Traders and energy producers are facing a limited set of SBP obligations.

Biomass producers

As a biomass producer, you are obliged by an extensive set of SBP requirements.

We recommend you to opt for a pre-assessment, during which we review your SBP system to identify any major gaps. This helps you to revise your system and ensure SBP compliance prior to the main evaluation.
2. SBP Assessment 
This is the main service leading to SBP certification. The scope and complexity of this process will differ, depending on the range of your obligations. These are listed below. 
Type of operation 
Key requirements applying to you

Traders 

Set up an SBP-compliant Chain of Custody system (SBP Standard 4)

Collect and compile data on energy consumption and carbon emissions. (SBP Standard 5)

Energy producers

Set up an SBP-compliant chain of custody system if this is covered by the scope of your SBP certificate. Note: Certification against this standard is optional for energy producers (SBP Standard 4)

Conduct energy balance and carbon calculations. (SBP Standard 6)

Biomass producers

Set up an SBP-compliant Chain of Custody system. (SBP Standard 4)

Collect and compile data on energy consumption and carbon emissions. (SBP Standard 5)

Establish a management system, keep a record of harvesting sites, elaborate a 

Supply Base Report and establish measures securing the 

credibility, set up system for the handling of comments and complaints. (SBP Standard 2)
 

Potentially conduct Supply Base Evaluation (SBE). SBEs normally comprise SBP Risk Assessment, SBP Supplier Verification and risk mitigation. 

(SBP Standard 1 and 2) 
 3. Supply Base Evaluations (for biomass producers only)
Depending on the material you are sourcing, you may need to conduct Supply Base Evaluations (SBEs). You have the option of conducting the SBEs yourself, however, this is often a complex task requiring specific in-house competencies. Alternatively, you may team up with an expert to conduct the SBE on your behalf.
Supply Base Evaluations
The purpose of Supply Base Evaluations is to minimise the risk of non-compliance with the SBP Sustainable Feedstock Standard for material that is delivered without a certain level of assurance. 
Which materials require SBE?
You are exempt from SBE when you are sourcing material with any of the following claims. Depending on the input material,  specific SBP claims may be used for the material once you are SBP certified:
Material classified as low risk of non-compliance with the SBP Sustainable Feedstock Standard.This may be the result of a national risk assessment or your own desk-based risk assessment (see below). 
Eligible SBP claim: SBP-compliant. 
Any type of FSC or PEFC claim (e.g. FSC 100%, FSC MIX, FSC Recycled, X% PEFC certified, PEFC Recycled). 
Eligible SBP claim: SBP-compliant.
Post-consumer material verified under the FSC, PEFC or SBP system.
Eligible SBP claim: SBP-compliant.

FSC Controlled wood and PEFC controlled sources claims.
Eligible SBP claim: SBP-controlled.
For materials that carry none of the above claims, you will need to conduct an SBE.
Note: Some European energy producers will accept SBP-compliant material only. You need to conduct an SBE for controlled material in order to use the SBP-compliant claim.  
 
What does an SBE entail?
An SBE involves the following key activities:
1 Risk Assessment (desk-based) 
First, you need to conduct a desk-based risk assessment against each indicator in the SBP Standard 1 (the SBP Sustainable Feedstock Standard). You need to conduct a stakeholder consultation minimum 30 days before you conduct any field evaluations (see point 2). All indicators need to be rated as either 'low risk', specified risk' or 'unspecified risk'. Note: In some countries, national SBP-endorsed SBP Risk Assessments exist. In those cases, you are obliged to follow the national assessment.
2 Supplier Verification Programme (field inspections)
To address unspecified risk, you must set up a Supplier Verification Programme (SVP). The purpose of the SVP is to further evaluate 'unspecified risk' indicators in the areas that you are sourcing from. The SVP entails field evaluations to re-categorise the risk rating of any indicators identified as 'unspecified risk' in step 1. As a result, all indicators will be either 'specified risk' or 'low risk' in each of your sourcing areas.
3 Addressing risk
To source material from a forest, you need to first mitigate any specified risk identified through steps 1 and 2,  through targeted measures. Sourcing areas must be excluded from your SBP material supplies if you are unable to address all specified risks.
Our credentials
Expertise. We are seasoned FSC and PEFC certifiers and experts on legal and sustainable forestry, and we also provide Carbon Footprint Management certification to help companies reduce their emissions. We are providing SBP certification services to leading companies along the biomass supply chain, and we have led the development of SBP national risk assessments for several countries on behalf of the SBP.

Focus on customer experience. We keep you up to speed on the certification requirements, and we provide clear and full answers to your questions.  

Industry insight. We cater to certified enterprises of all sizes and from all business sectors along the biomass/bioenergy supply chain.  

Local presence, global reach. With staff located in over 40 countries across the globe and backed by an extensive global network of experts, we cater to companies worldwide.

Wide service choice. We can provide FSC or PEFC certification for your business. We can also help you to demonstrate legality of the timber you buy or sell and to cut your carbon emissions through carbon footprint management training and certification.  
Five benefits of choosing SBP certification

Enhanced access to new markets and customers. Material with SBP claim is demanded by main EU bioenergy producers and is used as evidence that the material is sourced sustainably. Often, the subsidies received by these producers are conditioned by this claim. 

Enhanced investor relations. Sustainability performance is increasingly viewed as a key factor in investment decisions. 

Green is cool, but greenwashing is not. Boost your brand based on a real commitment. SBP certification enables you to make strong and safe claims backed by a third-party verification to a credible scheme.

Improved quality and management systems. Many certified companies find the certification process itself brings unexpected benefits such as cost savings.

Monitor and report your energy data. SBP will guide you through collecting and reporting of energy data from biomass production and transport. The methodology used is based on commonly agreed requirements and is accepted in most of the sourcing countries.