Body
Become part of the market for responsible farm products. Earn certification and use the frog seal to mark your support to sustainable farming.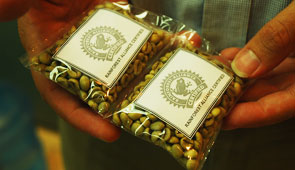 The Supply Chain certification enables Rainforest Alliance CertifiedTM material in a product to be traced from farm to shelf. It is a key part of any credible certification programme. 
Any organisation that buys, sells or mixes material from Rainforest Alliance Certified farms must hold a Supply Chain certification or endorsement in order to promote their products as certified. 
Unsure whether you need certification? Learn more about the Rainforest Alliance Sustainable Agriculture Standard or get in touch with us. 
If you need a price quote
Key steps 
Are you registered on the Rainforest Alliance Certification Platform? If not, this must be your first step. 
Once your registration has been confirmed, you will be able to build your company profile. The profile completion process includes a series of questions about your operations which is known as the Supply Chain Risk Assessment (SCRA). The SCRA evaluates the potential risks and determines the type and frequency of verification required. 
Once you have received your SCRA results, fill out the Certification Application Form (CAF) from the Rainforest Alliance website. Then, you will need to send the CAF to Preferred by Nature to receive a quote for your certification process. 
The certification process
| | |
| --- | --- |
| | Proposal and agreements: Based on the results of the SCRA, we will prepare a non-binding proposal for your Rainforest Alliance Supply Chain certification. We will also send you the required certification agreements.  |
| | Your preparation: You will need to prepare your existing company-specific supply chain procedures and train relevant staff to follow them. We will be available to clarify and explain the requirements.  |
| | Audit: When you are ready, we will conduct a certification audit to check your compliance with the Supply Chain requirements. The audit primarily involves document reviews, staff interviews and may include an on-site visit, depending on the size and scope of your activities. The Rainforest Alliance Supply Chain audits are normally conducted on-site and generally last up to one work day per site.  |
| | Assessment report: We will produce a formal report, following the internal review, detailing our findings before submitting this to you for comments. Any identified non-conformities are also described. |
| | Certification: If the certification decision is positive, we will issue you with a certificate and license to use the Rainforest Alliance's traceability platform. If you have non-conformities, you will need to make further changes to address them. |
A Rainforest Alliance Sustainable Agriculture Supply Chain (RA SAS) certificate is valid for three years. Subsequently, you will need to undergo annual audits to maintain the certification status. Full re-certification is required every three years. Note that the period from 1 July 2021 to 30 June 2022 is considered a Transition Period to the 2020 Rainforest Alliance Certification Program.
Once a positive certification decision is received, a certificate with validity of one year is issued. Starting July 2022, Certification Audits with full applicable requirements of 2020 RA SAS will be carried out – positive certification will lead to issuance of a new certificate with three years validity period, subject to annual audits.   
We may additionally conduct a random or follow-up audit. These are important tools for us to ensure year-round compliance. 
The scope of your certificate 
We can help you identify the type and scope of certification that best matches your needs. Below are some of the choices that you will make regarding the scope of your certificate. 
Traceability system 
Traceability is one of five Principles from the Rainforest Alliance Sustainable Agriculture Standard that companies are assessed against.
You will need to choose from the following options on how to handle and track the certified material used in your Rainforest Alliance Certified products:
Identity preserved (IP). A traceability option in which it is possible to identify the Rainforest Alliance Certified ingredient or product back to a single farm certificate holder. There is no mixing of certified ingredient/product with non-certified ingredient/product. This is the most stringent traceability type.
Segregation (SG). A traceability process in which the certified product is kept separate from the non-certified product, both physically and in documentation. This is allowed for all products
Mass balance (MB). Administrative traceability that allows a certificate holder to claim a product which is not certified as Rainforest Alliance Certified when the equivalent quantity was sourced as Rainforest Alliance Certified. This is only available for certain crops. 
For more information on the traceability system, please refer to the Annex S6.
Single or multi-site certification
If your organisation manages facilities in two or more sites, you may be eligible for multi-site certification that will reduce the total cost of certification. 
Single Participating Operator: This is an entity that does not have farming in the scope of its Rainforest Alliance certification, whereby management and all activities take place at a single physical location. The Supply Chain certificate is for one entity. An example might be a single raw material exporter or a cocoa processor with a single processing facility that produces cocoa butter, liquor and powder.
Multi-site Participating Operator: This is an entity that does not have farming in the scope of its Rainforest Alliance certification and has identified a central location under which one or more sites are operating. An appointed Multi-site Administrator represents all sites and administrates required systems and internal conformance with the Supply Chain Standard.  
For more specific info on Single and Multi-site Participating Operator, get in touch with us. 
Subcontractors, service providers and intermediaries 
A Participating Operation may make use of subcontractors and/or service providers and/or intermediaries for certified activities. If they are included in the certification scope, these entities must comply with the applicable requirements, depending on the activities carried out. This includes traceability, working conditions, application of inputs, use of seal and etc.
Our credentials
Expertise. With over 25 years of experience within certification, we have built a team of qualified auditors located across Europe, America, Russia, Africa and Asia. We service companies of all sizes dealing with various agricultural products including coffee, tea, cocoa and tropical fruit. Preferred by Nature (formerly NEPCon) has delivered Rainforest Alliance Sustainable Agriculture Supply Chain certification services since 2012. 
Focus on customer experience. Our aim is to provide you with a beneficial service that is supportive and friendly. Our professional services are delivered on time and to high quality. We will keep you up to speed on evolving certification requirements through client updates and provide you with the support needed to understand and fulfil your certification commitments.
Local presence, global reach. With staff located in over 40 countries and backed by an extensive global network of experts, we cater to companies worldwide, working with products from Rainforest Alliance certified farms.
Additional value of engaging with us
Complementary sustainability services. You can opt for additional services that support your sustainability efforts. For example, you can enlist in Forest Stewardship CouncilTM (FSCTM) Chain of Custody (CoC) certification or work with us on responsible packaging if you are using paper-based packaging. On top of that, you could even have your carbon footprint management certified – all under one roof.

The non-profit factor. We are mission-driven, which is reflected in our focus on delivering our services with integrity and a high degree of professionalism.
Five reasons for choosing the frog 
Public trust. Consumers today are savvier than ever before about the food and drink that they buy. As the Rainforest Alliance Certified seal is widely recognised in key European markets, it can help provide credibility to consumers and influence their decision-making process. 
Enhanced access to new markets and customers. Today, five percent of all Fortune500 companies purchase products with the frog and the global retail value of Rainforest Alliance Certified coffee, cocoa and bananas exceeds $1 billion. As such, sustainability is a central part of many business strategies. 
Enhanced visibility and branding opportunities for your company and certified products through the use of the Rainforest Alliance Certified seal on-product. This will also grant you access to unique online marketing platforms, campaigns and events.
Green is cool, but greenwashing is not. Make sure that responsible sourcing and certification are part of your sustainability strategy. Make claims backed by third-party verification to a credible scheme and boost your brand based on a real commitment. 
Help farmers manage their land responsibly. By sourcing and marketing Rainforest Alliance Certified products, you are supporting the development of sustainable agricultural practices. Impact studies have shown that Rainforest Alliance Sustainable Agriculture certification leads to a range of benefits, such as improved protection of rivers, soils and wildlife and better living conditions for farm workers and their families.