Body
Our EU-recognised due diligence system helps you to manage the risk of trading illegal timber.
The LegalSource Due Diligence System (DDS) provides an efficient route to exercising due diligence whilst documenting your company's efforts to secure legal compliance. The system offers a solid framework for systematic supplier and risk management.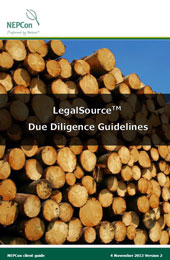 A free EU-recognised resource
The due diligence process explained from A to Z.
The LegalSource DDS is recognised as EUTR-compliant by the European Commission. As an EUTR Monitoring Organisation, we are responsible for keeping the system up-to-date. 
The system is thus designed to match the EUTR, but also similar regulations that apply in the US and Australia. It covers all key aspects of  due diligence, from access to information to risk assessment and risk mitigation. 
The LegalSource Standard forms the core of the system and sets out clear requirements for due diligence.
The Standard is complemented by step-by-step guidelines including checklists, a due diligence manual, and a collection of templates and forms that facilitate you to implement due diligence in practice
Usability takes pride of place
The LegalSource DDS has undergone thorough industry testing to optimise the user experience. It has also formed the basis for the DDS that the European Timber Trade Federation (ETTF) shares with its members. 
The system is designed to help you ask the right questions at the right point in your process. All templates use common software such as Word and Excel. This eases your use of the system elements regardless of your existing IT solution. 
You can download all system files free of charge. You may adapt and use them to set up your own due diligence system. You can also use the system to benchmark your existing system or simply for inspiration. 
Download the LegalSource DDS
Download the latest version of all the LegalSource Due Diligence System files and sign up for system updates.
Our free LegalSource Due Diligence System comprises guidelines, templates and forms that provides you a basis to establish your own due diligence system. To access the files, please fill in the form below. We collect your email address so we can inform you about any updates to LegalSource, and we collect other information about you as we're keen to know more about who is using our Due Diligence System.
Are you a system user already? Check if you are using the latest version of each file. If not, read the change summaries to gain a quick overview of changes compared to the version that you are using.
Learn how to implement the system
Gain a head start on implementing the LegalSource DDS with training tailored for this purpose. The one-day LegalSource Kickstarter Course is designed to assist companies in adapting and applying the LegalSource toolkit.  
Please fill in the form to download the LegalSource Due Diligence System

.