Body
Are you sure that you are buying certified? An FSC logo on your supplier's website or invoice does not automatically prove this. Here's a simple guide on how to check the certification status of products that you are buying.
The following tips are useful for any buyer who seeks to buy certified, for example in order to comply with procurement policies.
Note: FSC certificate holders are obliged to regularly verify the validity and scope of their suppliers' certificate. 
 
Step 1: Check the validity of your suppliers' FSC certificate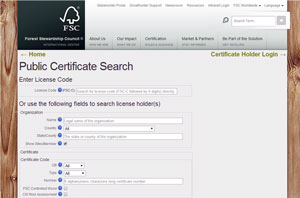 a) Go to the FSC Certificate Database: http://info.fsc.org
b) To search for a certified operation, choose any of the following actions:
- enter the FSC License Code e.g. FSC-C000000
- enter the organisation's name
- use the country scroll-down menu to search for all forest  management certificates issued in a country
- enter the certificate code.
c) If you supplier is listed on the FSC Database with a valid certificate, you can trust that they are FSC certified. 
Note: Some buyers mistakenly believe that all timber products from a given supplier are certified when the company is certified. However, most certificate holders are selling both certified and non-certified products. The next steps help you to verify the certification status of the actual products you are buying. 
 
Step 2: Check the scope of your suppliers' FSC certificate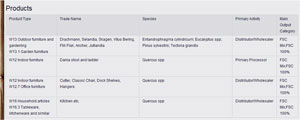 Click on the certificate holder's certificate code or license number. You will then be taken to page with information about the scope of your supplier's certification.

Under 'Products' you wil find information on product type, timber species and claims covered by the certificate. 
 
Step 3: Check claims on the suppliers' invoice and delivery note.
Even though your supplier holds a valid certificate and the product you are buying falls within the scope of their certificate, they may sell the same type of product in two qualities: certified and non-certified.
To verify that the product you are buying is sold to you as certified, look at your invoice and delivery notes. If your product is certified, you will see a corresponding claim next to your product on the invoice.