Body
Find our scheduled assessments and contact us to see how you can provide your input.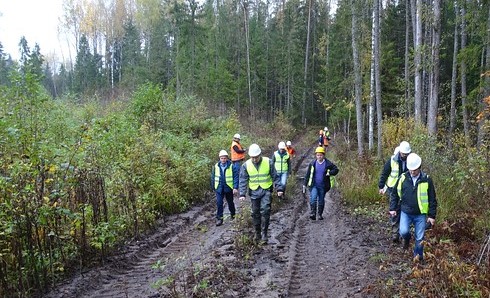 As part of our evaluations of whether organisations are in conformance with FSC Controlled Wood requirements, we announce scheduled FSC Controlled Wood assessments that need stakeholder consultation* directly to local key stakeholders and invite them to comment. This often leads to valuable inputs. We also list those upcoming assessments below, so that anyone can request information and give input on them. 
Please contact us about any of the listed evaluations so that we can provide you with a summary of the organisation's activities under assessment to enable you to give your input. Note: We can only consider comments on topics that are covered by the applicable FSC standards.
* We must conduct stakeholder consultation when we evaluate and re-evaluate organisations against FSC-STD-40-005 V3-1, and the organisation sources material under its own risk assessment, or under an FSC risk assessment that does not conclude low risk.
| Organisation | Organisation country | Certificate code | Geographical origin of the material | Evaluation date |
| --- | --- | --- | --- | --- |
| Forestal Silva Ltda. | Chile | NC-COC-007691 | Chile | 28 May 2019 |
| FOREST PLUS s.r.o. | Slovakia | NC-COC-055160 | Slovakia | 3 June 2019 |
| ORCA Vsetín s.r.o. | Czech Republic | NC-COC-055231 | Czech Republic | 11 June 2019 |
| Lahaie Lumber Ltd. | Canada | NC-COC-004301 | Canada | 24 June 2019 |
| Valmos OÜ | Estonia | NC-COC-009115 | Estonia | 2 July 2019 |
| StroyTransLes LLC | Russian Federation | NC-COC-032472 | Russian Federation | TBC |
| Lesy Alfa, s.r.o. | Slovakia | NC-COC-054829 | Slovakia | 11 July 2019 |
| Hao Hung Co. Ltd. | Vietnam | NC-COC-029281 | Vietnam | 15 July 2019 |
| Song Kon Co. Ltd. | Vietnam | NC-COC-053632 | Vietnam | 10 July 2019 |
| Coldwater Veneer, Inc. | United States | NC-COC-007039 | United States | 11 July 2019 |
| MJ Agri Vina Co. Ltd. | Vietnam | NC-COC-032490 | Vietnam | 13 September 2019 |
| Aacer Acquisition LLC | United States | NC-COC-001339 | United States | 9 August 2019 |
| Northern Hardwoods Operating Company, LLC | United States | NC-COC-002229 | United States | 3 February 2022 |
| FAKRO PP Sp. z o.o. | Poland | NC-COC-015641 | Poland | 15 February 2022 |
| Les Bois Poulin inc. | Canada | NC-COC-003582 | Canada and United States | 5 April 2022 |
| Lulumco inc. | Canada | NC-COC-005827 | Canada | 13 April 2022 |
| Baltliner OÜ  | Estonia | NC-COC-009097 | Brazil | June 2022 |
| Scierie SerDam Inc. | Canada | NC-COC-005995 | Canada | 16 June 2022 |
| Tafisa Canada inc. | Canada | NC-COC-003089 | Canada, United States | 21 June 2022 |
| Europcell Holding GmbH | Germany | NC-COC-015839 | Brazil | June 2022 |
| Ekman and Company Inc | Brazil | NC-COC-007304  | Brazil | |
| Johnson Timber Corporation | United States |   | United States | January 17, 2023 |
| Keylite RW Polska Sp. z o.o. | Poland | NC-COC-015360 | Poland | 27, 28 Feb. 2023 |
| Scierie St Fabien Inc. | Canada | NC-COC-003112/NC-CW-00003112 | Canada | March 7 2023 |
| Wilfried Heinzel AG | Austria |   | Brazil | 17 - 21 April, 2023 |
| Fabryki Mebli FORTE S.A. | Poland | NC-COC-013500 | Poland | June 2023 |
| DUNG NGUYET ANH JSC | Vietnam |   | Vietnam | August 1 2023 |
| Eastwood Energy Dong Nai | Vietnam |   | Vietnam | August 3 2023 |
| Lubelski Fornir Sp. z o.o. | Poland | NC-COC-012382 | Poland | October 16 2023 |
| Rosario Poirier inc. | Canada | NC-COC-00387 | Canada | October 1, 2023 |
| Mondi Stambolijski EAD | Bulgaria | Pending | Bulgaria | October 2-11 2023 |
| Longlac Lumber Inc. | Canada | NC-COC-006705 | Canada | September 19, 2023 |
| Charbon de bois franc Basques | Canada | NC-COC-003488 | Canada | September 2023 |
| Emporium Hardwoods, LLC | United States | NC-COC-003635 | United States | November 9, 2023 |
| Simon Lussier | Canada | NC-COC-073984/ NC-CW-073984 | Canada | November 14, 2023 |
| GP North Woods LP | Canada | NC-COC-003769/NC-CW-003769 | Canada | October 31, 2023 |
| Chantiers Chibougamau Ltée / Nordic Structures | Canada |  NC-COC-003885; NC-CW-003885 | Canada (Québec, Ontario) | November 27, 2023 |
| BRADRO Paweł Braun, Łukasz Braun Sp. J. | Poland | NC-COC-015929 | Poland | January/February 2024 |
| Townsend Lumber Inc. | Canada | NC-COC-006807; NC-CW-006807 | Southern Great Lakes Forest, Eastern Great Lake Lowland Forest | Mid January 2024 |
| Sociedad Industrial Maderera y Forestal INMAFOR Ltda | Chile |   | Chile  | January 18, 2023 |
| Eduardo Mauricio Muñoz Campos | Chile |   | Chile | January 15, 2023 |