Body
An FSC project certificate documents the volume of FSC certified timber used for your construction project and demonstrates your commitment to forest-friendly building.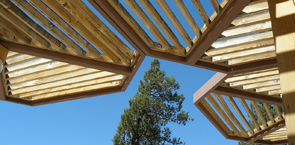 Timber is increasingly popular in construction, and for good reasons: Being renewable, it is inherently climate-friendly and fits perfectly into green building strategies. Not to mention all the fascinating architectural possibilities with modern technology. 
Developers also increasingly want to know that the material originates in responsible forest management. FSC project certification helps you to demonstrate this.
There are two options for FSC project certification:
One-time project certification: project certification for a single project
Continuous project certification: project certifications that allows organisations to continuously obtain FSC project certification for several projects